Before we begin, happy new year! Thank you for being a Crypto-News reader and for supporting us since we started in 2015. If you are just discovering Crypto-News, welcome. We hope to earn your trust and attention through our reporting and opinion articles.
Weekly BTC Price Chart
Bitcoin has remained relatively stable through the entire week, observing an initial correction from the $4000 rally we had at the start of the week. Mid-week dropped to about $3600 for 36 hours, before recovering up to $3800. The markets themselves are still driven by speculation most of the time, and this week there are no observable patterns that influenced the price of Bitcoin.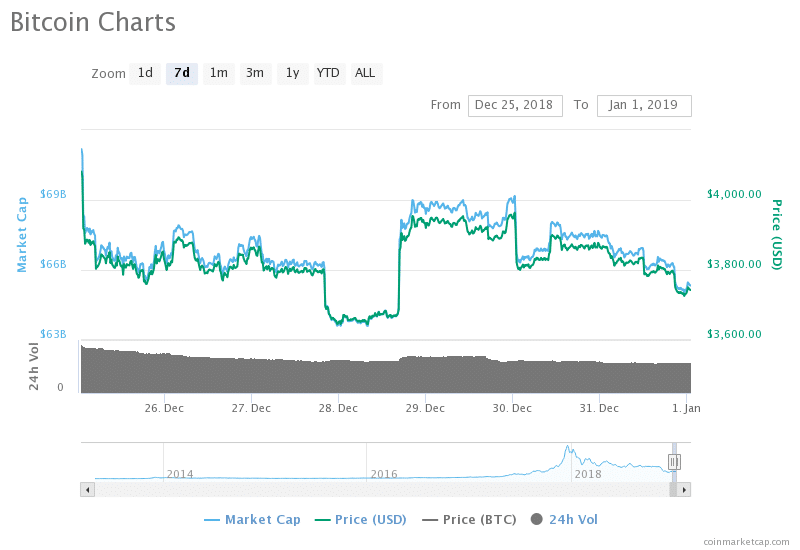 Special mention: Litecoin
Litecoin sponsored a sports event, which you will read all about it in a minute. They announced it on the 26th of December, and the event took place on the 28th of December. It had a clear positive impact over the price of Litecoin, improving it's position by a couple of dollars per coin. The most interesting fact is that they have managed to keep this value increase stable for the duration of the week, suggesting that it is not based off speculation, but rather actual developments in the real world.
We would like to congratulate the Litecoin Foundation for their success and successful marketing campaign, as well as setting the foundation for future entries into the world of sports events.
December 26th
Litecoin in the Octagon sponsoring the UFC 232 fight between Jon Jones and Alexander Gustafsson
In the second meetup between the fighters, a new logo could be seen displayed on the Octagon's floor. For the first time in history, a cryptocurrency has sponsored an event of this magnitude, with millions of people watching online, and thousands just outside the ring.
Litecoin's logo was displayed in the center ring of the Octagon, and in the video embedded here you can find a few shots where it is clearly visible. The event was live-streamed and offered as a per-per-view, so we cannot share the whole thing, but this low-quality video can serve as evidence for those that want to see it with their own eyes.
This is a major moment for crypto, and while previously there have been collaboration with individual athletes, the event space has been reserved for the heavy hitters such as Monster, Harley Davidson, and other companies. With Litecoin successfully positioning themselves at the Octagon they have made it possible to promote crypto to an even wider audience.
Will this type of sponsorship become a regular habit of well-established cryptocurrencies? Tell us what you think in the comments.
Other news:
Blockchain technology to be used to empower remote doctors
Bank of America files a patent for "ATM as a service"
December 27th
Taiwanese individual arrested for stealing electricity to power 17 Bitcoin and Ethereum mining facilities
The suspect only known by his surname "Yang" has been progressively opening businesses such as doll shops and internet cafes, and systematically hired electrical engineers to rewire the wiring helping him avoid raking up the electricity bill.
First noticed by the Taiwan Power Company, a state-owned electricity provider, which then reported the inconsistencies leading to a police investigation on the premises of the businesses. This is not the first case of stealing electricity in order to mine crypto, with at least two cases reported in China, one of them leading to the arrest of the responsible individual for three and a half years.
There is a clear incentive to think about this approach, especially if we consider that you only need electricity and hardware to operate a crypto mining business. Eliminating the electricity costs, eliminates a lot of the overhead costs and exponentially increases your profits. However, nothing comes for free. There are many risks to undertake in such a scenario. Rewiring the metering systems can be deadly or cause fires, and of course the whole procedure is illegal, so jail time is inevitable in the case of discovery.
Unfortunately, many miners have been wondering whether that is the best way to proceed, but we urge all of our readers to simply pay the price if they are, or considering mining cryptocurrency. In our efforts to increase freedom and decentralization, taking illegal action is the best way to centralize your location, and eliminate your freedom.
Other news:
US Defence Department: "Blockchain can be used to help disaster relief efforts"
From Wine to Crypto: Hong Kong winemaker to purchase majority stake in Japanese crypto exchange BitOcean
Rumors regarding India's ban on cryptocurrencies suggest that it might be over soon
Digital Identity is expected to become a well-adopted reality in Taiwan by the end of 2020
December 28th
Italy appoints 30 experts to form a national blockchain strategy
The Italian campaign to attract blockchain experts in late September 2018, has led to positive results. The country has appointed 30 individuals from various backgrounds to form an expert blockchain group which will be employed to strategize, advise, and provide DLT solutions for the Italian government. This announcement goes hand in hand with the declaration Italy gave together with 6 other countries, saying that they will do their best to incorporate this technology to improve their country's economy.
With this type of proactive attitude from governments we can finally get into the use cases that truly matter and can change the way we live life. The group is tasked to discover these use cases in both the public and the private sector, and develop tools to help the regulation and implementation.
If other countries follow suit, we can expect that these countries will inevitably contribute to the ongoing blockchain research. As much as we would like to philosophize as human beings, the reality of blockchain demands active participation in the society or industry that you are trying to change with the use of the technology.
Many projects have started in recent years, sometimes led by individuals and teams that have no direct contact with the actual industry they are hoping to change. Additionally, they have often lacked governmental support, as the authority structures are often very inflexible and dismissal of anything that may demand a part of them to be changed.
Other news:
The Next Web talks about Bitcoin's performance in 2018
Mexican Cartels suspected to launder money through Chinese Crypto Brokers
190 cryptocurrency exchanges in Japan have submitted their applications to the financial authorities
December 29th
Survey reveals 40% of Chinese would still invest in crypto
Even after 2018 experienced a hefty decline in value, even midst great technological advances, a recently conducted survey by Chinese PANnews asked 4000 Chinese citizens a couple of questions about cryptocurrencies.
They asked:
Have you heard about cryptocurrencies?
Do you think that cryptocurrencies are useful as means of payment?
Would you invest in cryptocurrencies?
The answers are surprising, with more than 90% having heard about cryptocurrencies, 63% expressing that cryptos are not useful as a payment method, and about 40% saying that they would be interested in investing in the near future. Either oblivious to the speculative downs of the market (and the recent Bakkt decision to delay indefinitely has not helped at all), or painfully aware of how disconnected the market is from technological advances, the respondents of the survey were optimistic about cryptocurrency's future as an investment vessel.
Of course, the limited sample size cannot be taken for granted, and the individuals that took part, may or may not be a part of a particular sub-group. The original report does not explain what the methodology was in implementing the survey, so we have to take their word for it.
Other news:
Samsung trademarks a cryptocurrency wallet
Kuwait's National Bank, partners with Ripple Net
Huobi releases English whitepaper for their first blockchain implementation, HuobiChain
December 30th
Nvidia accused of breaching SEC regulation
Video graphics card manufacturer Nvidia is accused of having manipulated the markets through their statements regarding crypto mining in the past year. They've claimed that their stocks will not suffer by the decrease of interest in crypto mining, as the gaming industry is a reliable source of revenue for the company.
Unfortunately, these types of statements did not go well with "Shall Law Firm" an American shareholder rights litigation company. It says that Nvidia has violated articles 10(b) and 20(a) of the Securities Exchange Act of 1934, and broken rule 10b-5 under the U.S. Securities and Exchange Commission. In plain speak, Nvidia has been deemed to have made false or misleading messages to the market, and according to the law firm it therefore needs to be held responsible for investors that have lost more than $100k by owning their stock in the period of Aug. 10, 2017, and Nov. 15, 2018.
Other news:
Blockchain project to protect endangered species against poachers
The Next Web talks about exit scams in 2018
Hacked discusses quantum computing. Is it a threat to crypto?
December 31st
Blackhat hackers stole $1 billion from exchanges, while white hat hackers got $878k from bug bounties
Crime pays, but crime prevention pays as well. While protecting the tech users may not be as lucrative as successfully stealing millions of dollars from a cryptocurrency exchange, it is certainly safer. For the hacker, and everybody else.
In 2018, there have been several hacks who managed to take off with more $1 billion in total, which is an incredible amount. Of course, with the falling prices of crypto in this period, this amount is believed to be significantly lower by today's standards. Regardless, the hacks did happen. Security vulnerabilities were exploited and significant amounts of crypto went missing. However, the exchanged and financial task forces have a solid communication model in place, one which enables the blacklisting and freezing of accounts suspected to have been involved in cryptocurrency theft.
This makes it more difficult for the malicious hackers to use the cryptocurrency they have stolen. At the same time, a rather small (by comparison) amount of $878k have been paid out to hackers that have helped companies solve security and other issues. This makes the white hat hacker's job more profitable than malicious hackers. The transparency in the technology and most of the currencies has disarmed many hacking successes by tracking down and following the exchange of the assets, making it more difficult for malicious actors to escape with the loot and enjoy the rewards of their deeds.
Other news:
Top 5 financial experts missing the mark on Bitcoin price predictions.
Crypto and Taxes, here's what you should know
January 1st
Official Fortnite store accepts Monero
Fortnite, one of the most popular video games in this period of time, often found at the top of the viewer leader board on streaming services such as Twitch, has been discovered to accept Monero, as the one and only payment option for the game.
Through their implementation of a crypto payment processor GloBee, the official Fortnite merchandise store "Fortnite Retail Row", has positioned themselves to support and drive cryptocurrency adoption. Considering that players of the game are usually young and acquainted with the game, it is clear why the choice to implement crypto is a good one.
But why Monero? Why not implement more cryptos? The reason is simple. Fortnite and Epic Games are companies that create video games, platforms, and skins. They are mostly programmers and designers, and do not know a lot about crypto. There have been many difficult and illegal events happening with the use of cryptocurrency, and Monero is one way to safely avoid having to prove their own innocence in the case they receive tainted crypto.
This tweet by Monero let us know about the development, and following the conversation in the reddit thread, where core devs explain that this is yet another success for the collaborative "Project Coral Reef" whose goal is to increase Monero adoption through the use of GloBee.
Other news:
India's crypto rupee postponed, according to Indian media
US senator reports to jail in response to suspicion for false police reports over cryptocurrency hardware theft
---
That's it for this week. As always, share your opinions about the most interesting ones or link those stories we might have missed in our collections, which you found interesting and noteworthy over the week. You can also send us suggestions of stories to include in the next list if you find something interesting over the next days.
Featured Images via Pexels.